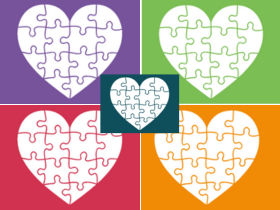 online
Online
Scottish Recovery Network
We're pulling out all the stops to support and showcase all the fantastic peer support activity happening in Scotland! Be part of Peer Support in Action! as we work together to develop the peer landscape in Scotland and show the world what peer support can do.
Peer Connects is a trio of terrific participatory online events to connect, share and learn with people passionate about the power of peer support!
Being confident in our understating of peer support and how we use our experiences is an important part of being an effective peer supporter. What's out there to help you develop as an individual or as an organisation? How can you get the most out of what's available to enhance your peer support practice? What knowledge and experiences do you have to share? Log in to this third Peer Connects event and be part of the conversation as we hear from Independent Living Support Dumfries and others who have co-designed and co-delivered peer support training opportunities.
Link to event collection
https://www.eventbrite.com/cc/peer-connects-684139
Online security and wellbeing
We will be using the video conferencing tool Zoom for this event. Your online security and wellbeing are our utmost priority. We will send out a secure Zoom link and welcome pack ahead of the event.
If you would rather call into this event on your phone (audio access) we can accommodate this – you can request this on the registration form.
Accessibility
Scottish Recovery Network supports #CommunicationForAll and we are working towards becoming fully inclusive. If you have any accessibility or communication needs that would help you take part please let us know.
If you require BSL interpretation or an electronic notetaker we need to know at least 2 weeks in advance of the event date so we can arrange this.
If you have any further questions contact 0300 323 9956 or info@scottishrecovery.net
Sign Language (BSL) users can contact us directly by using Contact Scotland BSL (contactscotland-bsl.org)