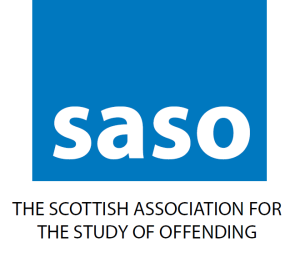 On-Line (Zoom)
Online
Scottish Association for the Study of Offending
The Scottish Association for the Study of Offending (SASO) aims to create a common meeting ground, nationally and locally, for all professional groups and individuals concerned with the issues raised by offending in Scotland.
It provides an opportunity for an exchange of views by its members, enabling them to explain their own problems and to appreciate the problems of others engaged in related fields.
The Association hold regular local Branch meetings where they discover and discuss offending related matters that are important to them.
The Dumfries and Galloway Branch of the Association has been continuously active in the region since 1970 and in our pre-pandemic format, we held six, short, after work seminars in the autumn and winter months at the University of the West of Scotland in Dumfries.
At our seminars invited speakers present on a justice related theme and then invite discussion within the audience. Our members and attendees, drawn from varied spheres of interest, never failed to broaden perspective and generate discussion.
As we emerge from this period in our history SASO in Dumfries and Galloway, like all other organisations, have an opportunity to reinvigorate our Branch and implement new ways of meeting our aims of creating a meeting ground where individuals and professional groups can discuss issues relating to offending in Scotland. If this is of interest, we invite you to join us at our forthcoming Annual General Meeting where we will re-imagine and discuss the future direction of the Branch and to our forthcoming winter series of presentations.
As a longstanding member of the Association, I value the local meetings for the breadth of issues that form the annual programme, the engaging discussions from a range of perspectives that follow, and the network of local connections that our Branch provides.
We hope that you will be able to join us to reimagine our Branch at our Annual General meeting which take place on Zoom at 1900 on Tuesday 28th June. In order to receive the meeting link, please contact our Branch Secretary, Amanda Armstrong at dandgsaso@gmail.com
John Sturgeon
Chairman
Dumfries and Galloway Branch
Recent Branch Activities/Topics
"The Domestic Abuse (Scotland) Act, 2018 – A view from the Courtroom"
What's new in Justice Social Work?
Lockdown Probation: A study of probation practice in France and Scotland during the national lockdowns.
Co-producing justice within the youth justice system
The Childrens Hearing during lockdown.
"Child Sexual Exploitation: Its Happening Here": Awareness raising.
An evaluation of the structured deferred sentences pilot in four courts in South Lanarkshire
The work of Scottish Families Affected by Alcohol and Drugs