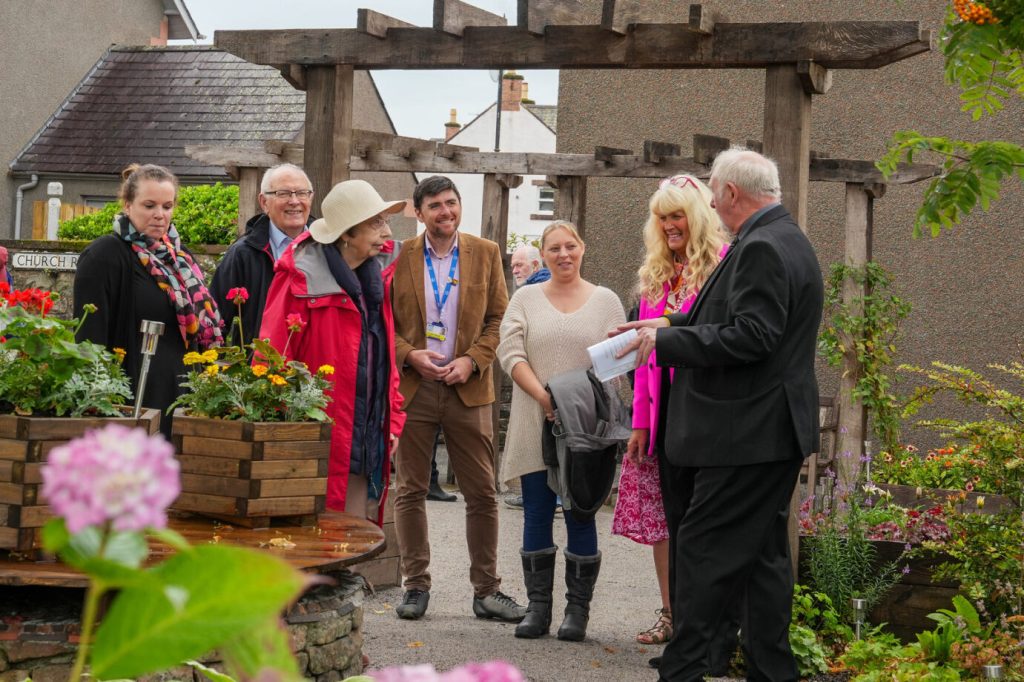 A £50,000 fund is aiming to grow ideas focused on supporting people in the region to live well at home for longer.
A share of the newly-announced sum is being made available to up to 12 ideas which will be selected from submissions to Dumfries and Galloway Health and Social Care Partnership's (DGHSCP) Intrapreneurship Programme.
Director of Strategic Planning and Transformation David Rowland said: "We're delighted to now be able to confirm a very significant £50,000 sum to help grow grassroots ideas to help people live as independently as possible for as long as possible.
"The allocation of a share of this funding for up to 12 ideas reflects the success of first round of the Intrapreneurship Programme when we helped five ideas become a reality, and we now very much hope to see more great ideas coming forward before this year's deadline of November 21."
People already working and volunteering within health and social care are being asked to put forward ideas informed by their experience, knowledge and insight.
They will be supported to develop their ideas, and then present them to the Investment Team.
The Investment Team for the second round of the Intrapreneurship Programme can now been revealed.
Members are drawn from a range of organisations in Dumfries and Galloway involved in health and social, and they will consider the ideas at the Investment Day taking place on March 7 2024.
The Investment Team includes Isobel Henklemann from Food Train, Michael Greaves-Macintosh who has an involvement with several third sector organisations, Dyfrig Hywell from NHS Dumfries and Galloway's Health and Wellbeing Team, and DGHSCP Strategy Support Manager Liz Forsyth.
The final member of the panel is Anne Davies from Wheatley Homes South, who delivered one of the five successful ideas in the first round of the Intrapreneurship Programme.
Anne's successful idea was around the use of virtual reality technology to help bring memories alive for elderly residents.
Having been awarded £4500 in the last round of funding to help bring her idea to life, Anne said: "People we work for experience social isolation and have limited opportunity to revisit childhood places, stimulate memories, as well as letting them 'visit' places that they have only dreamt of doing.
"To be able to offer them the opportunity to do all of this from their own living room or communal lounge will generate happiness and reduce the isolation."
Encouraging ideas to come forward for the second round, Anne said: "I was thrilled that my idea was successful, and was awarded funding to help it become a reality.
"It's very exciting now to see this coming to life, and to see the benefits it's going to bring to so many elderly residents within our region.
"It was a little bit daunting, the thought of putting forward my idea to be reviewed and considered alongside so many other great ideas, but the support and coaching I received to develop it and then present it to the panel was fantastic, and I'm obviously delighted by the outcome.
"I would strongly urge anyone who has been thinking of ways that we can help people in our area live well at home for longer to get in touch with The Lens, who are partnered with DGHSCP on the Intrapreneurship Programme.
"They'll be provided with some really helpful information, and the offer to talk through what's involved, and explain how they're idea could become a reality."
Another project from a member of staff Wheatley Homes South which was awarded funding has also been proving very successful.
Alan Berry pitched the idea of a sensory garden for people living in sheltered accommodation in Kirkcudbright, and based on the work which has been carried out within the programme Alan has now been nominated as Social Care Worker of the Year.
Applications for the new round of funding can be obtained at this address:
https://z60qz1gwcx6.typeform.com/to/XpbKLwFV
Details about the programme can be found here:
https://www.lensperspectives.org.uk/dumfries-and-galloway-health-and-social-care-intrapreneurship-programme/
Anyone with questions at this stage is asked not to hesitate, but to contact Jenny Coxon, Programme Manager at The Lens, who would be delighted to assist via hello@lensperspectives.org.uk
Picture: The sensory garden idea by Alan Berry brought to life in Kirkcudbright