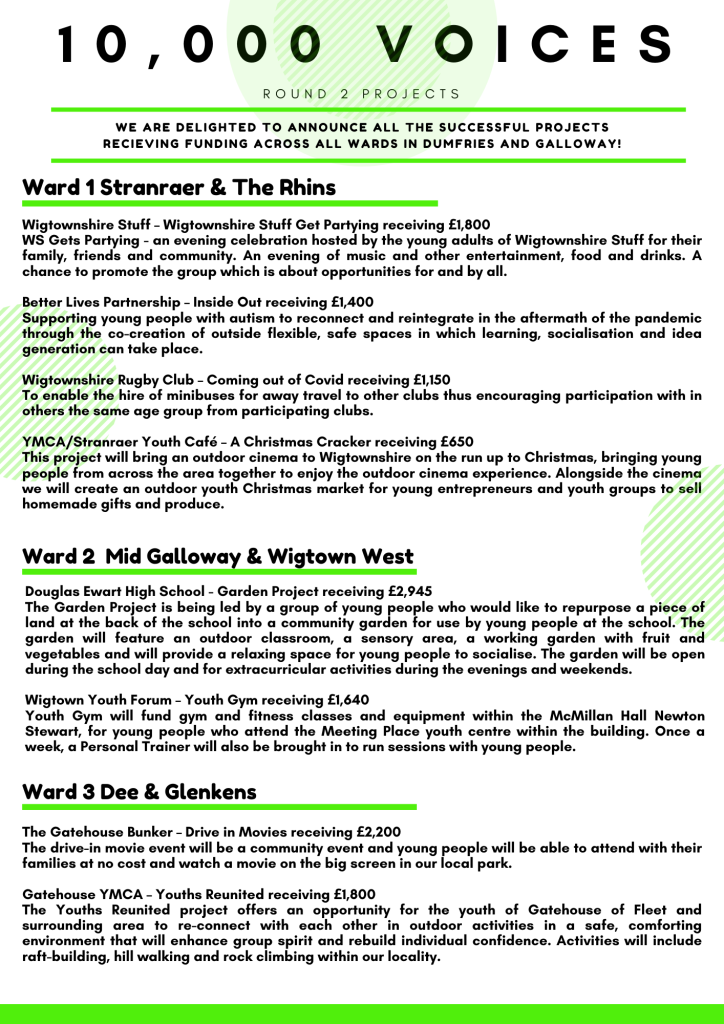 A further £60,000 funding was distributed this week to 34 youth projects in Dumfries and Galloway after young people voted to choose projects they felt would make a difference to communities in our region in Round 2 of 10000 Voices in Action.
£5000 of funding has been allocated in each of the 12 ward areas of Dumfries and Galloway for projects that address priorities identified by young people including mental health, bullying, poverty and youth opportunities.
The successful projects include new opportunities for young parents and their children, projects for teenagers to access free food and a range of activities and opportunities for young people to socialise and reconnect with friends and communities as we begin to recover from the pandemic.  
Councillor Adam Wilson, Dumfries and Galloway Council's Young People's Champion paid a visit to 'The Attic' youth project in North West Dumfries earlier this week to present them with a cheque that will fund new evening and weekend activities for young people in the community.
He said "The range of projects that are being funded through the 10000 Voices in Action fund will continue to provide support and invaluable services to young people and our fragile communities as we begin to recover from the pandemic. I would like to thank every organisation who applied to this fund and congratulate those who have received funding. I look forward to seeing your projects in action, making a difference for young people and communities in our region."
A mascot, 'Chips' the monkey, was also visiting projects last week, and stopped by to the 'Bouncin Bairns' young parents group to say hello and present them with their cheque. 
Cloe Allison, a member of the Youth Action Group responsible for leading the project said "We are delighted by the wide range of projects that have come forward to help us tackle poverty, inequalities and disadvantage in our region. We have funded a diverse range of projects from sports groups to food initiatives, new support services and awareness raising campaigns and we look forward to seeing the difference that these projects will make in our communities."
10,000 Voices in Action is funded through the Scottish Government's Investing in Communities fund.
For more information and to apply please visit youthwork.dumgal.gov.uk