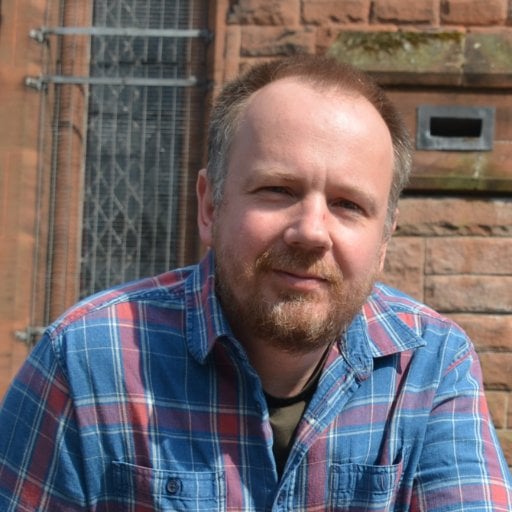 Glenkens Community and Arts Trust (GCAT), which runs the cultural hub Catstrand, has a new Arts Culture and Heritage Manager.
Peter Renwick is joined at the Trust as the same time as Helen Keron takes on the post of Executive Manager.
Peter said: "It's a real privilege to be able to stage the GCAT programme. There are only a few places in Scotland where you can see such a high quality programme in such an intimate environment. I'm looking forward to working with partner venues, and I hope to be able to stage some special events in the surrounding landscape.
"I moved from Edinburgh to New Galloway around 2010 to take up a marketing support role at the CatStrand. At this time Cathy Agnew was Chair, Karen Donald the programmer, and Brian Edgar was on the board.
"I've been programming performing arts across D&G ever since then. Working with Dumfries & Galloway Arts Festival, Dumfries Theatre Royal, The Stove, DG Council, and Moat Brae. Most recently, I was the producer of The Village and The Road by Tom Pow and The Galloway Agreement (performed at the CatStrand at the beginning of September), and the programmer for the launch weekend of Creetown's new venue; The Quarrymen's Arts Centre. I'm addicted to the thrill of staging events and seeing an expectant audience walking into a room.
"Coming back into the Glenkens you see a new and renewed sense of confidence and pride. This is reflected in the work of the Galloway Glens, The Loch Ken Trust, New Galloway Community Enterprises, LING, and many others. I've come in at a really good time as Helen Keron is taking on the post of Executive Manager, I have no doubt that GCAT has a big job to do.
"I'd like to pay tribute to the work that Aidan Nicol has done. In my first two weeks here it has been often said that she leaves 'big boots to fill'. All I can say is that I'll do my best."
Alan Smith, Chairman of GCAT added: "All at GCAT are delighted that Pete took up the post. He brings a wealth of experience in programming and running events. He's well known amongst Dumfries and Galloway's artists and venues and has an excellent knowledge of the Scottish and UK touring sector. He has a clear dedication to creating an arts program that has the broadest reach and that reflects the artists and communities of this region."
For more about GCAT, click here: gcat.scot/