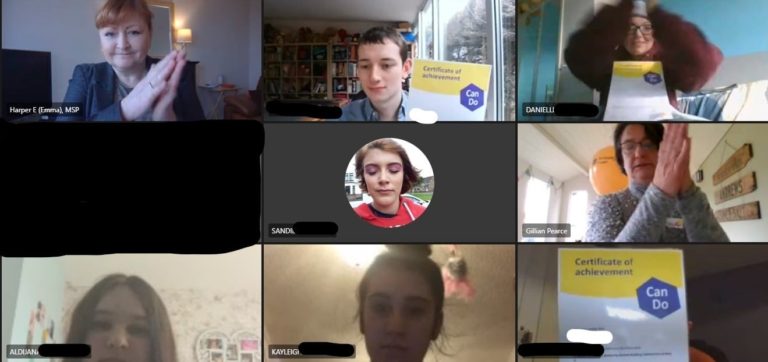 Students from Dumfries and Galloway College have given back to the community while adapting to the virtual world by focusing on improving mental health and wellbeing.
Leonard Cheshire in Scotland's innovative 'Can Do' programme encourages those aged 16 to 35 with additional support needs to gain new life skills through training and volunteering opportunities in the local community.
The participant led programme has been learning about different activities that can alleviate mental health and wellbeing from a range of groups in the local area, before deciding how they can give back to the community in a meaningful way.
The sessions have been delivered entirely through the use of digital technology, which has enabled participants to stay connected to each other while reducing social isolation and digital exclusion.
The Can Do participants – or Can Doers – planned their sessions before learning about mixed martial arts and mindfulness, meditation and breathing, and the positive impact pets can have on our mental health. The cohort also made window displays to brighten the spirits of passers-by in their local communities, as well as creative and light-hearted comic books.
Anna Francesca, from comic book artist group Schraldi Art, said: "I found an opportunity to teach the Can Doers about comic books, but the kind-hearted young people from the programme taught a lesson about their care for the community that brightens my day."
The participants were visited by A Listening Ear Wigtownshire, a telephone befriending service to help prevent loneliness. It was here the Can Doers procured and named teddies to accompany small stories they had written for people who use the befriending service.
Can Doers were also sent flowers to arrange by Tammy's Sweet Stems during one session, before deciding to give these to family or friends.
Danielle, a participant of the programme in Dumfries and Galloway, said: "I liked speaking to people I don't know and getting to know them through Can Do. I really enjoyed making stories and flower arranging. I would love to do this opportunity all over again and the entire class enjoyed all the sessions."
Olivia Robinson, Programme Coordinator for Can Do in Dumfries and Galloway, said: m"Every session in the project is based on the student's choice, which is the great thing about Can Do. The students were keen to do a project on mental health and wellbeing so every session linked into that theme, and they learned that sometimes it is important to learn what do and don't like doing. Certain activities might not have been their thing, but they saw that it all benefited somebody else."
The cohort came together at the end of the project to celebrate their hard work of giving back to the community with a virtual award ceremony. The Can Doers were visited by Emma Harper MSP, who congratulated everybody and subsequently lodged a motion through Scottish Parliament to recognise their incredible efforts.
The Can Do programme in Dumfries and Galloway will be funded for the next two years thanks to The National Lottery Community Fund's Young Start Fund, The Holywood Trust, The Orcome Trust and The Batchworth Trust.
Gillian Pearce, Lecturer at Dumfries and Galloway College, said: "The participants chose mental health early on and have linked each session back to the topic, which has been very encouraging. It is a valuable life skill to make up their own mind and they can look at these as a taster of hobbies for the future.
"Within the limited confines, it has been so interactive and engaging. Everyone has been isolated, they haven't seen their mates, but they have all joined in so willingly and have taken part – it is so brilliant."