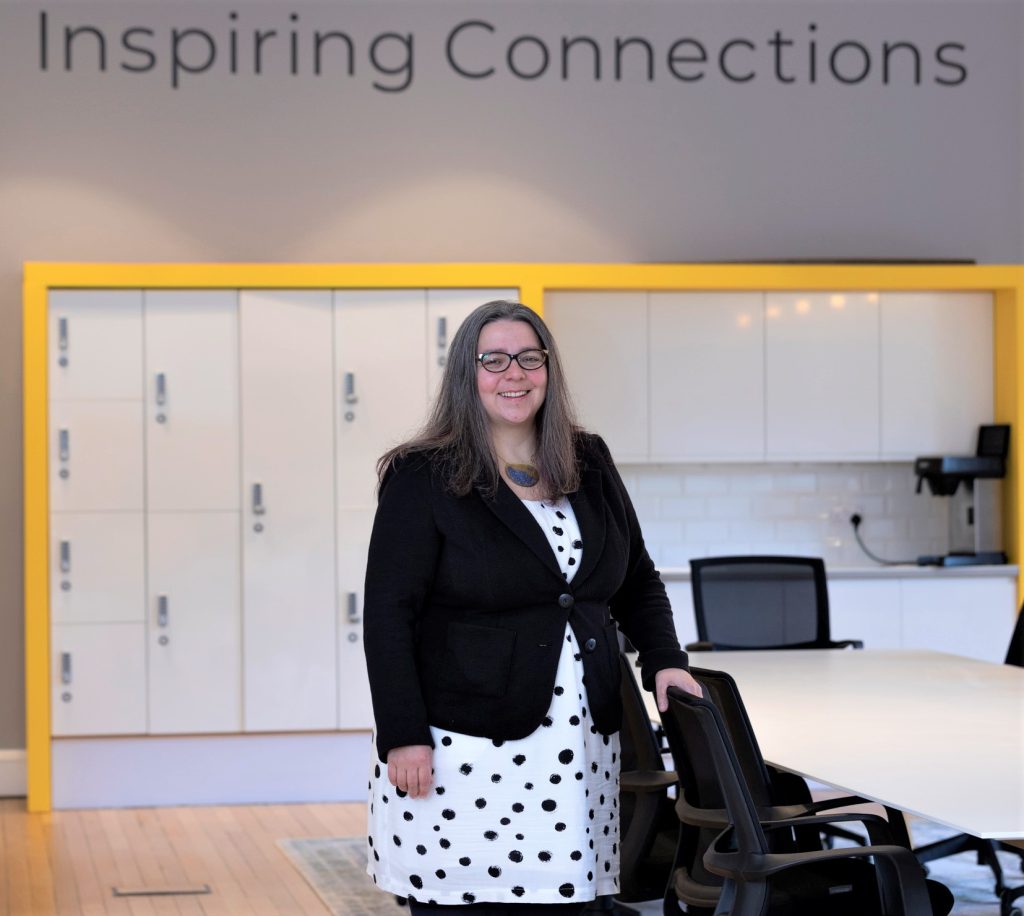 The Crichton Trust is delighted to welcome Sarah-Jane Burns to the team at The Crichton in Dumfries. 
Sarah-Jane has recently joined the team as the Business Community Development Manager with a remit to 'inspire connections'.
In this new role, she will have the honour of liaising with and supporting the businesses, education institutions and charitable organisations based on site at The Crichton and will facilitate knowledge exchange, collaboration and partnership initiatives to encourage engagement with organisations and individuals based in and around Dumfries and Galloway and throughout Scotland and other UK-wide networks. 
Gwilym Gibbons, Chief Executive of The Crichton Trust said: "Sarah-Jane is joining us at a really exciting time.  Nurturing existing relationships and inspiring new connections as we work towards shaping a new and sustainable future for The Crichton is so important.
"With our existing networks and partners and over 100 tenants on site at The Crichton, the phased opening of our new Crichton Central café and co-working space, the recent launch of S5G Connect Dumfries and a significant funding boost from the UK Community Renewal Fund, we have a lot to look forward to and a lot to achieve. Partnerships and working in collaboration are key to our success, so we are delighted to have Sarah-Jane on board to help us connect people, place and the past to shape the future."
Sarah-Jane joins from the University of Strathclyde, where she spent the last seven years working in the Scottish space sector and innovation landscape; connecting business, academia and government around the uses and applications of space technology across sectors such as agriculture, tourism, land management, environment, forestry and more. 
Sarah-Jane has also held a number of other roles in education within schools, universities and local government in Scotland and further afield.
She will have a varied role, but with a particular focus on Crichton Central, the new co-working and collaboration space at The Crichton, and on events and collaborative activities. 
"I'm here to bring people together essentially," she said. "This could be everything from solving business problems, to looking at some the challenges we face as a society or to inspire young people and students to access the many opportunities that are available to them locally. 
"Most importantly, I will be supporting the businesses and organisations based at The Crichton. We want our tenants and partners to have positive experience at The Crichton and to provide them with the space, place and connections to achieve their aspirations."
She added: "The new co-working space at Crichton Central is a really exciting addition to The Crichton, not just for those on site, but for the local area as it offers a flexible and adaptable working and social space for individuals and small groups, as well as meeting and event space for larger teams and events."
Do you have a new face at your organisation? Send us details and a picture to communications@tsdg.org.uk.