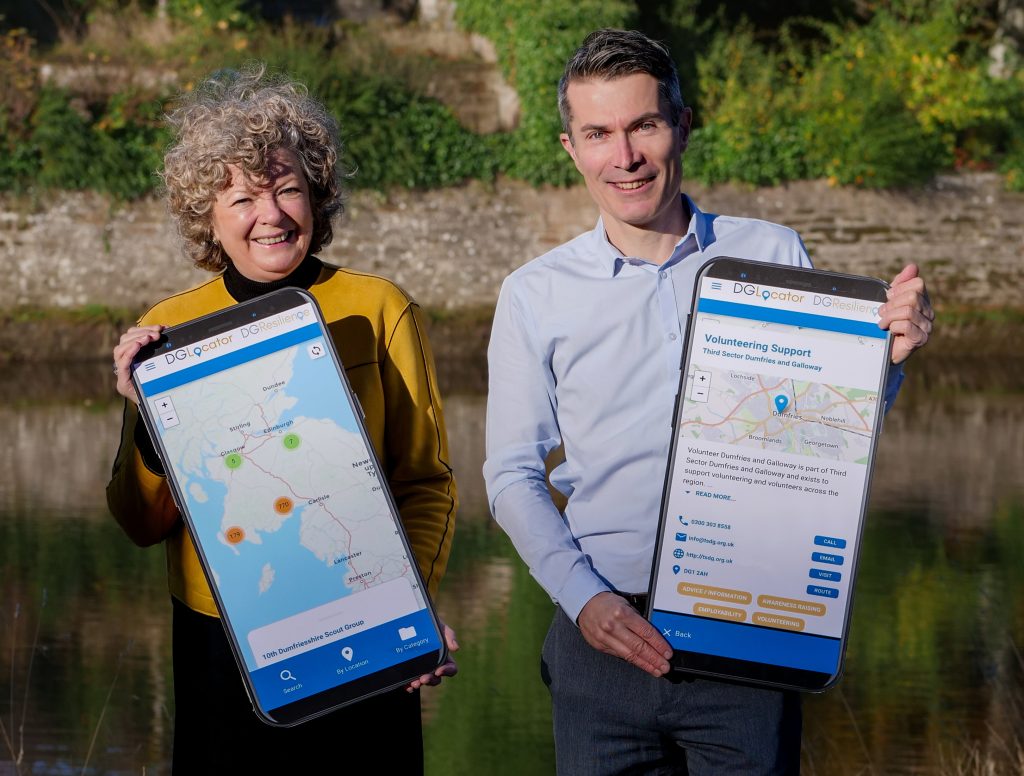 A free interactive mobile app has been launched to help promote useful services and organisations across Dumfries and Galloway.
DGLocator – available now to download on the Apple App Store and Android on Google Play – is the creation of Third Sector Dumfries and Galloway (TSDG) and is supported by a free to access website.
Android – https://play.google.com/store/apps/details…
Apple – https://apps.apple.com/gb/app/dglocator/id1582612205
Both showcase the services on offer by charities, voluntary organisations, and social enterprises within the region.
Already over 1000 services are featured, and third sector organisations are being encouraged to get in touch with TSDG if they would like to be included.
Each entry includes, if available, the service and organisation names, a description of the service, and contact details, including phone, email, and website. If an exact postcode for the service is available, the app and website can also direct the user to its location.
Organisations can have more than one service featured to cover different areas of work, and all are easily searchable.
DGLocator was developed by local firm BDSDigital and follows the success of the slimmed-down map version DGResilience. That was introduced during the height of the COVID-19 pandemic to alert the public to services locally that could help in a crisis.
Norma Austin Hart, CEO of TSDG, said: "Third sector organisations are a vital part of Dumfries and Galloway from Canonbie to Drummore and offer a huge variety of services to its residents.
"DGLocator will now help to promote these to both current and potential service users and the wider public in an exciting, modern, and easy to use format never seen before. The app will continue to grow, and we have exciting plans to develop it further in the future."
Helen Keron, Chair of TSDG's board, said the app was made possible by Scottish Government Covid-19 recovery funding and makes accessing the many vital services that the third sector in Dumfries and Galloway offers available at the tap of a phone.
She added: "This will benefit a huge amount of end users across the region, but will also the third sector organisations featured on the app themselves – promoting their services directly to the people who need them. And for free."
To access the website version of DGLocator, go to dglocator.org.uk or download the app for free now.
A third sector organisation can submit a new service here: DGLocator service request
Picture: Norma Austin Hart, CEO at Third Sector Dumfries and Galloway, and Alan Hall, Communications Manager with screenshots of the new app.