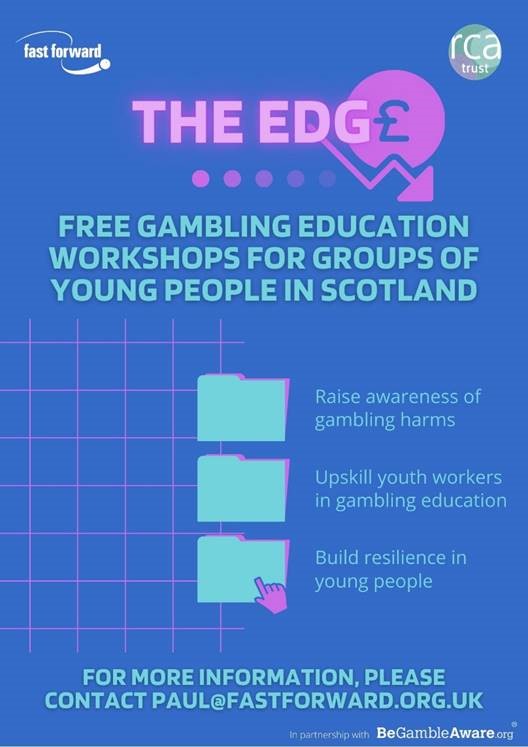 Fast Forward and RCA Trust have launched a new pilot project, The Edge.
The six-month pilot project is aiming to raise practitioners skills and knowledge around gambling education by delivering and co-delivering three focused gambling education sessions to young people.
These sessions have been put together using a free and accessible online toolkit, with over 30 different games and activities to engage young people in gambling education. All sessions can be delivered in person or online, and most importantly they are fully funded to deliver these sessions so there is no cost to you or your organisation.
These three sessions consist of the following learning outcomes:
• Improve knowledge and increase awareness
• Change unhealthy attitudes towards gambling where present
• Correct false cognitions, understandings, erroneous beliefs
• Influence Behaviour: prevent or delay onset of gambling; decrease/reduce excessive gambling; prevent gambling harms
• Increase skills and coping mechanisms that build individuals' resilience
• Reinforce positive choices
• Signpost and raise awareness of where to get help when needed.
If you would like to discuss this free opportunity to upskill yourself as a worker and deliver high quality training directly to your young people please get in contact with Paul@fastforward.org.uk. They also deliver free Gambling Education Training for anyone engaging with under 25s in Scotland, gain knowledge around gambling harms and learn new games and activities to engage young people in gambling education.
Book a free and exclusive training session for your organisation today by emailing tina@fastforward.org.uk or click this link to book your free place on planned sessions: http://bit.ly/2SmqNe9