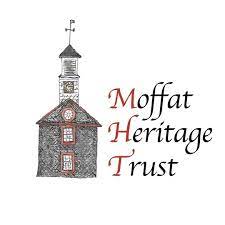 Moffat Heritage Trust put together a programme of training in traditional skills, a historic town walk, and talks by eminent trainers and lecturers in the town's Old Churchyard in June.
The Trust, formed in 2019 and constituted in 2020, was due to hold them in April last year, but Covid delayed those plans.
There were 75 trainees in total over five days from all walks of life and all ages from 22 to 78 years old. They were homeowners, professionals, public sector, students, and museum and heritage consultants all wanting to learn more and upskill in the now accepted best practice of using non-hydraulic lime or hydrated lime hot mixed for traditional buildings.
Hot mixing was the method used since time immemorial until the advent of cement and then NHL (natural hydraulic lime) in C19th and C20th.
Hydrated limes hot mixed set and harden through drying out and absorbing carbon dioxide from the air. This means they have a very slow set: CO2 is only absorbed when certain conditions are met. They are the softest, most breathable limes available and are now the recommended mortars for traditional buildings by Historic Environment Scotland and Historic England.
Nigel Copsey renowned lecturer, practitioner and trainer led the course with Luke O'Hanlon from CADU (Wales) his co-trainer. Dr Peter Burman MBE FSA led the town walk and presented a lecture on the Architecture of Moffat. Archie McConnel and Graham Roberts (retired Archivist Ewart library) and of DAMP (Dumfries Archival mapping Group) delivered a second lecture on the history of Moffat and its building materials and Ross Burgess of the Falkland Society presented a brief lecture on the historic building survey they carried out in Falkland in summer 2020 to illustrate how such a historic building survey could be replicated in Moffat.
The Trust received a grant of £5882 from Historic Environment Scotland and a further grant of £2000 from ANCBC and Foundation Scotland to deliver the event and also to make a series of films recording the events and above listed presenters.
Foundation Scotland's brief was that these films would be open access and able to be shown by them to other communities in Scotland both for training purposes and to inspire other communities such as Moffat to evaluate, collate and treasure their history, culture and built heritage and employ training in traditional skills and best practice going forward to ensure best care and repair of the historic environment for future generations.
The Trust also won sponsorship from Hoddom Sand, George Hunter & Son, Murray Fencing, AdamsNapier Partnership in Peebles and partnered with SPAB Scotland (Society for the Protection of Ancient Buildings) in publicising and delivering the event on the ground.
Niamh Ní Shúilleabháin, Chair Moffat Heritage Trust, said: "We at Moffat Heritage Trust believe the series of short and long, historic, technical and practical videos have something for everyone and we hope they will encourage owners, custodians and professionals who have traditional buildings in their care to review the damage that non breathable cement and NHL's have done to traditional buildings and hence re-evaluate their practice going forwards."
Moffat Old Churchyard training site videos:
Nigel Copsey demo Hot Limewash Moffat 2021: https://www.youtube.com/watch?v=LLqV4lzf3z8
Nigel Copsey Demo Hot Mix lime mortar Moffat June 2021: https://www.youtube.com/watch?v=M0ml4E0Idls
Interviews from Moffat Heritage Trust & SPAB training week Moffat June 2021: https://www.youtube.com/watch?v=cOZhk7WPkrE
Historic town walk and powerpoint lectures:
Moffat: a historic town walk by Peter Burman MBE FSA with map created by José Oliveros: https://www.youtube.com/watch?v=WY8DyScWxGU
Moffat A Most delectable Spa town in Upper Annandale by Peter Burman MBE FSA: https://www.youtube.com/watch?v=wcV9MuNjIo8
Building in Moffat 1720s to 1850 by Graham Roberts and Archie McConnel of the Dumfries Archival Mapping Project (DAMP): https://www.youtube.com/watch?v=2aE-z7yxyno
How Moffat could replicate the Falkland Historic Building Survey by Ross Burgess: https://www.youtube.com/watch?v=Ub0t_twDY-o