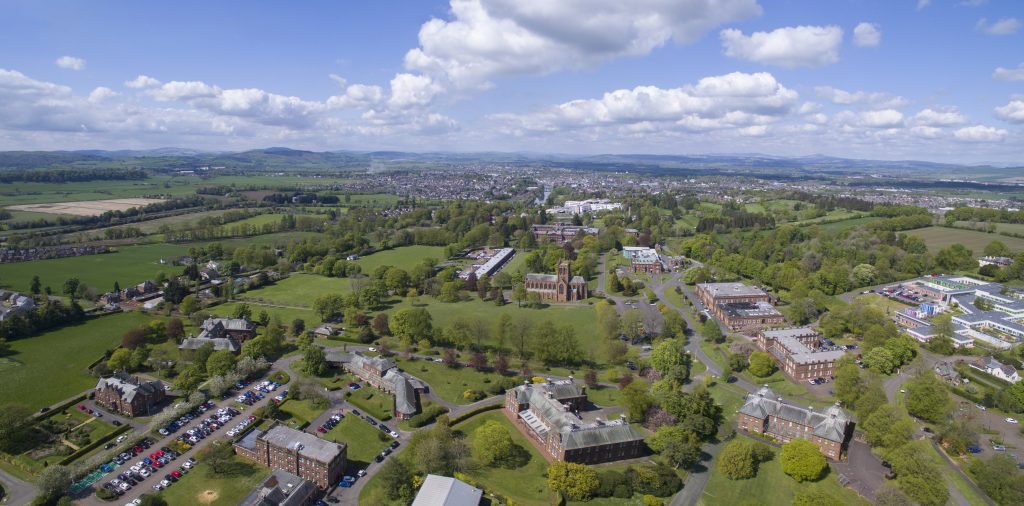 Three projects in Dumfries and Galloway are amongst 477 projects across the UK that will get cash under a pilot for the scheme due to replace EU structural funds to help poorer areas.
The new Shared Prosperity Fund (SPF) is expected to roll out from April next year and ahead of this the projects in the pilot were announced this week within the UK Community Renewal Fund.
A total of £280,237 will go towards "Developing a World Class Visitor Attraction in Dumfries". A further £979,710 has been approved for "The Crichton 21st Century Village" and another £217,491 has been approved for "Whithorn ReBuild and Whithorn School of Crafts".
The Crichton Trust revealed more about their project this week.
"The funding will enable the Trust to build upon the substantial work carried out to date by the Dumfries and Galloway Care Campus Project, the Sustainable Communities Initiative Project and The Crichton Quarter Development Framework to deliver a route map and investment-ready detailed master plan for The Crichton 21st Century Village (to include The Crichton Estate).
"The Crichton Trust has an ambition to deliver a new ambitious model of carbon-neutral, connected, smart, age-friendly living, studying and working that will become an internationally important Living Lab, a world leader in combining smart sensor-enabled living with an intergenerational connected community of 470 adaptable new homes for life.
Gwilym Gibbons, Chief Executive, The Crichton Trust said: "To have been awarded the largest grant in Scotland is brilliant news for the South of Scotland. This project will convert ambition, detailed research and consultation into a spade and investment-ready project in readiness for the UK Shared Prosperity Fund, other public funds and commercial investors next year. Our aim is to develop a whole system deliverable response to the challenges of the climate crisis, our ageing society and emerging technologies."
"The funding will support four concurrent programmes of work:
• MASTERPLAN FOR THE 21 CENTURY VILLAGE: In partnership with Dumfries and Galloway Council, we will deliver a full and detailed masterplan for The Crichton Quarter/21st Century Village in line with the Local Development Plan 2 which seeks to dovetail the Ladyfield Housing Site into The Crichton Estate. The work will include design options and costing for: housing, a community-owned non-carbon local energy scheme, design, feasibility and costing of a pedestrian and cyclists priority zone for The Crichton Quarter and design considerations for the use of autonomous vehicles and assisting living technologies across what will become a Living Lab Innovation Quarter in partnership with the University of Glasgow and Heriot-Watt University. All will benefit from the co-location of Scotland's first rural 5G Innovation Centre launched on The Crichton this week.
• DEVELOPMENT OF EXISTING CRICHTON BUILDINGS: Development of key assets on the existing Crichton Estate, including a design competition and full costing for replacement of Merrick the former hospital laundry building to construct The Crichton Centre for Memory and Wellbeing a new internationally important home to mental health, wellbeing and arts research and learning. This will include work to support an application for UNESCO Memory of World Status for the important Crichton Royal Archive (in the custodianship of Dumfries and Galloway Council and NHS Dumfries and Galloway); the development of a new purpose built home for SHAX and a Crichton Quarter wide carbon neutral neighbourhood energy scheme to include a mix of hydrogen, solar, ground source and waste to heat capture.
• THE CRICHTON VILLAGE TRADE SKILLS ACADEMY: We will become an exemplar of historic building smart system, low carbon restoration and new housing build. The Crichton Village Trade Skills Academy a partnership project which will see 100 young people gain housing and skills through the construction project.
• COMMUNITY HOME OWNERSHIP AND INVESTMENT: We will help young people secure accommodation and in doing so, support a key building block of community ownership and investment in the new village. In addition, we will test novel models of tenancy and home ownership to support the delivery of an inclusive intergenerational care community at scale.
"These four work streams will embed our vision of a place of intergenerational knowledge exchange that supports the diverse community to age well and be physically, socially, culturally, and economically active as long as possible. Each workstream will include community consultation to ensure that they are co-designed and co-developed with local communities and to ensure that they fully meet the local communities needs and local community members are able to be active partners in the design and delivery of these initiatives."
The project from the Whithorn Trust will commission a feasibility study to explore the potential of the Trust to become an accredited training centre for young people in traditional and historic construction skills.
The money for the region's projects is contained within a total of £18million for Scotland.