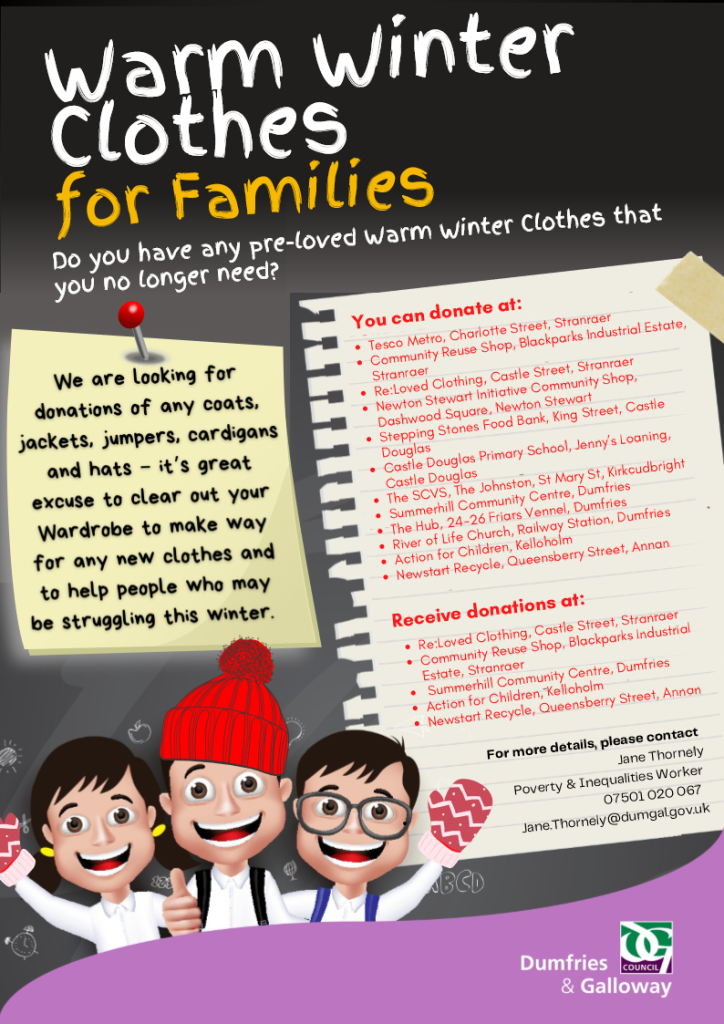 Dumfries and Galloway Council is looking for donations of any types of warm winter clothes no longer needed.
Jackets, jumpers, cardigans, hats, scarves, gloves, etc in any sizes are requested – both children and adults.
There are donations points throughout the region highlighted on the poster.
It's an excellent excuse to clear out your cupboards and wardrobes knowing that everything that you will donate will be going to someone in need.
Free Warm Winter Clothes Events
They are also hosting Five Free Warm Winter Clothes Events throughout the region on the following dates and times when all of the donations received in will be re-distributed to anyone in need:
Sunday 28th November 2021, 11:00pm – 3:00pm The Oasis Centre, Newall Terrace, Dumfries
Friday 3rd December 2021, 11:00am – 3:00pm, The Ryan Centre, Fairhurst Road, Stranraer
Saturday 4th December 2021, 9:00am – 12:00 Noon, Newstart Recycle, Queensberry Street, Annan
Saturday 4th December 2021, 11:00am – 3:00pm,  Hillview Leisure Centre, Kirkland Drive, Kelloholm
Sunday 5th December 2021, 11:00am – 3:00pm, Castle Douglas Community Centre, Castle Douglas
All of the events are free to attend and anyone attending can collect as many clothes as they wish too for their families which will help them through the cold winter months ahead.